Golden Circle - Southern Comfort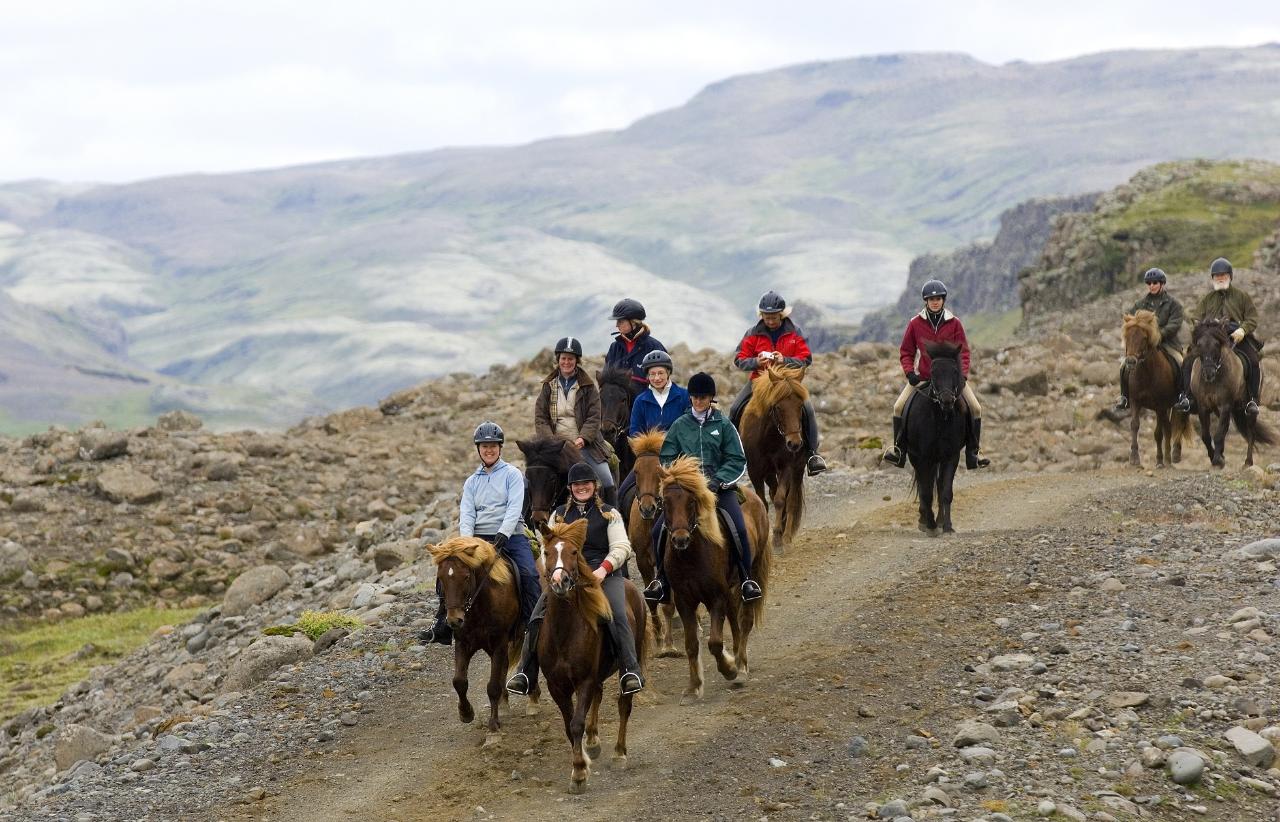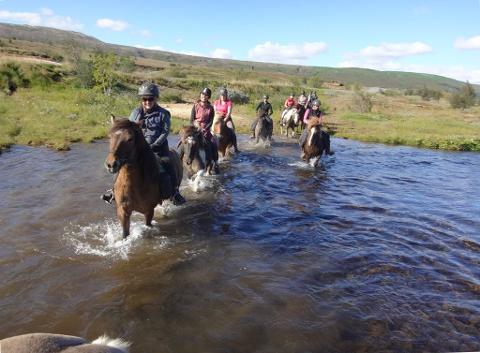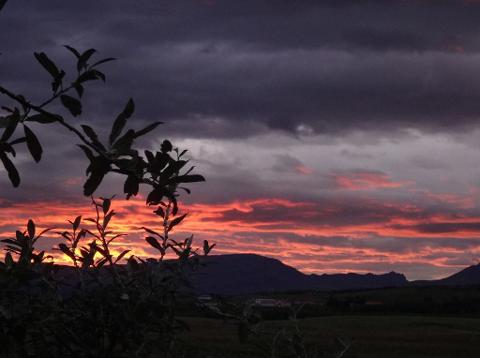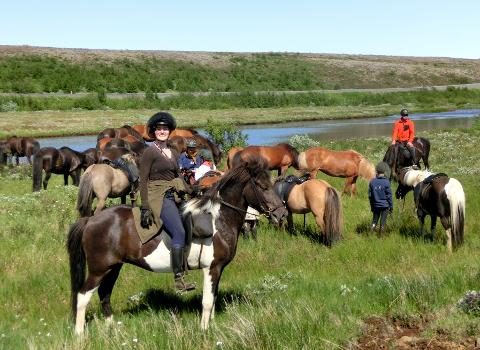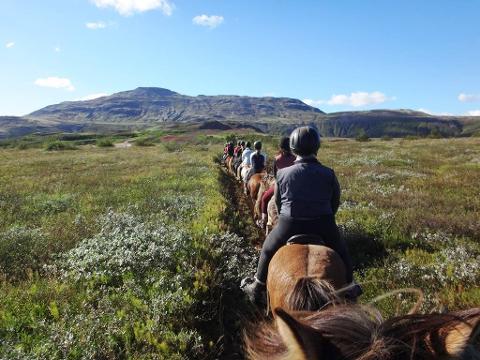 Duration: 6 Days (approx.)
Product code: IH-6
This tour was nominated by CNNgo as one of the greatest horse treks in the world! There is no better way to visit the hot springs area of Geysir and the Golden Waterfall – Gullfoss – than by riding through the lovely countryside of South Iceland.

HORSEBACK RIDING IN ICELANDIC MOST FAMOUS PLACES
What better or more unique way to do the popular Golden Circle Tour than by riding through the lovely countryside of South Iceland. The three key attractions on this classic tour are the hot spring area of Geysir, Gullfoss or the Golden Waterfall and Thingvellir National Park. Each one guaranteed to take your breath away. Thingvellir National Park is now on the UNESCO World Heritage List based on its historical, geological and cultural importance.
This tour is perfect for families and those not having the required riding experience for our highland tours. Keep in mind that riding days can be long so you should be in good physical shape and have the basic horsemanship skills.
On the first riding day you get acquainted with the unique Icelandic Horse and its special extra gait as we take an easy trek along the banks of the majestic Thjórsá River. We continue towards Gullfoss Waterfall with its thundering waters and the hot spring area of Geysir. After a relaxed day´s riding in that locality we next explore some of more remote places, well off the beaten track. On our way to our accommodation, we visit the charming Secret Lagoon for a well-deserved bath. We cross the highland moor of Hrunaheiði and enjoy good riding tracks when trekking past iconic basalt columns at Hrepphólar on our way back to Kálfhóll Farm.
Part of this tour can be booked as a 5-day tour/4 riding days – see our tour Geysir Gullfoss Special and as a 2-day tour / 2 riding days- see our tour From Geysers To Mountains.
Saturday: Reykjavik – Réttarholt Guesthouse
Pick up at BSÍ Bus station in Reykjavik or at Reykjavik official bus stops near your accommodation (see: www.busstop.is) between 18:00-19:00, where our Íshesta bus will transfer you and your fellow riders to Réttarholt Guesthouse, where horses and staff are waiting for us. After a lovely introductory meal where we get to know each other we relax and rest so we are well prepared for the adventure ahead of us.
Sunday: Réttarholt Guesthouse – Thjórsá glacier river
After an introduction to the Icelandic horse and its special gaits, we start our ride along the pleasant trail at Thjórsá glacier fed river. We leave the horses at Sandlækjarmýri field and drive to Réttarholt Guesthouse. This day is the perfect start to get to know your horse and the Icelandic way of trail riding in a relaxed atmosphere. Enjoy the outdoor hot tub at Réttarholt Guesthouse before a hearty dinner. (approximately 15 km)
Monday: Réttarholt – Hvítárdalur
We leave Réttarholt and drive back to the horses. From there we head off to the fertile farmlands of neighboring community Hrunamannahreppur. We drive spare horses along in a free running herd, enabling us to change our mount regularly and traveling at a brisk space. We cross the well know Salmon River Stóra-Laxá and stop for our picnic lunch at Hrunaréttir, a corral used for the annual sheep round-up in autumn. We ride to Hvítárdalur Farm where we spend the night. (approximately 30 km)
Tuesday: Hvítárdalur – Gullfoss – Myrkholt
We continue our ride on soft trails ideal for tölting towards the majestic canyon Brúarhlöð where milky green water passes through bizarre rock formations. Alongside Hvítá River we follow the ever deepening canyon on to the impressive Golden Waterfall Gullfoss and continue to the famous Geysir hot spring area. (approximately 20 km)
Wednesday: Haukadalur – Haukadalsheiði – Myrkholt
Our ride takes us through Haukadalur valley with its beautiful birch forest. Cross clear little streams on the way and enjoy the rich vegetation of wild mountain flowers that bloom during high summer. While you ascend to a highland plateau you will notice the changes in nature as you reach higher ground. A breathtaking view of the mountain ranges and glaciers of the highland around awaits you when you reach the top of Haukadalsheiði. Rest of the day is spent at the Geysir area. You have plenty of time to explore this highly interesting area with its countless bubbling hot springs. (approximately 15 km)
Optional (available at an extra charge): Snowmobile drive on Langjökull glacier
Enjoy the white ice field of Langjökull glacier up-close. A 4×4 vehicle takes us to a base camp where we change into warm gear. After safety instructions, we drive into the white world of ice and snow. Two people share a snowmobile during the 1 hr. drive and both get to drive the vehicle (a valid driver´s license is necessary to drive a snowmobile, younger participants and children can sit in the back). Price per person ISK 26.200
Thursday: Geysir – Tungufellsdalur – Kaldbakur – Réttarholt Guesthouse
We leave the Geysir area and ride along green pastures back to the bridge at Brúarhlöð canyon where we cross mighty Hvítá River. Now we head towards the interior and follow beautiful Tungufellsdalur Valley onto Hrunaheiðar heath plateau and we experience riding along the edge of civilization. Our horses spend the night at Kaldbakur Farm, we drive to the Secret Lagoon for relaxing bath in the geothermal pool and then drive to Réttarholt Guesthouse and spend the night. (approximately 30 km)
Sunday: Réttarholt Guesthouse – Kaldbakur – Hrepphólar – Kálfhóll – Reykjavík
Our last day of riding includes yet again terrific scenery. Today we follow good riding tracks past Mt. Galtafell. We cross River Laxá before we reach Sandlækjarmýri. We turn towards the banks of Thjórsá River and follow them to Kálfhóll Farm. (approximately 40 km) Here we say goodbye to our guides, staff, and horses and return to Reykjavík, drop off at your accommodation. Approx, arrival at 19:00.
– We reserve the right to alter the itinerary if necessary –
ACCOMMODATION
Made up beds in shared rooms during the ride. Accommodation after the ride are to be arranged individually.
WHAT IS INCLUDED
Bus transfer from Reykjavík to the farm.
During the ride full board is provided. Our menu consists of a large breakfast and traditional Icelandic meals (fish or lamb). Vegetarian meals are available if requested when booking. All riders make their own packed lunch from the breakfast table.
Alcoholic beverages are not included in the tour price and are hard to get in the highlands. They can be bought at a reasonable price in the Duty Free Store at Keflavik Airport upon arrival.
Rain wear, water bottle, saddle bag, riding helmet.
ATTENTION
Individual travel insurance is not included in the tour price. We encourage clients to obtain relevant travel insurance before visiting Iceland.
Flight to and from Iceland is not included
Bring bags rather than hard cover suitcases
Pack light because transport space is limited.
- For more information please visit our website www.islandshestar.is -