Beach and mountain ride - Shorter version of IH-5 Snæfellsnes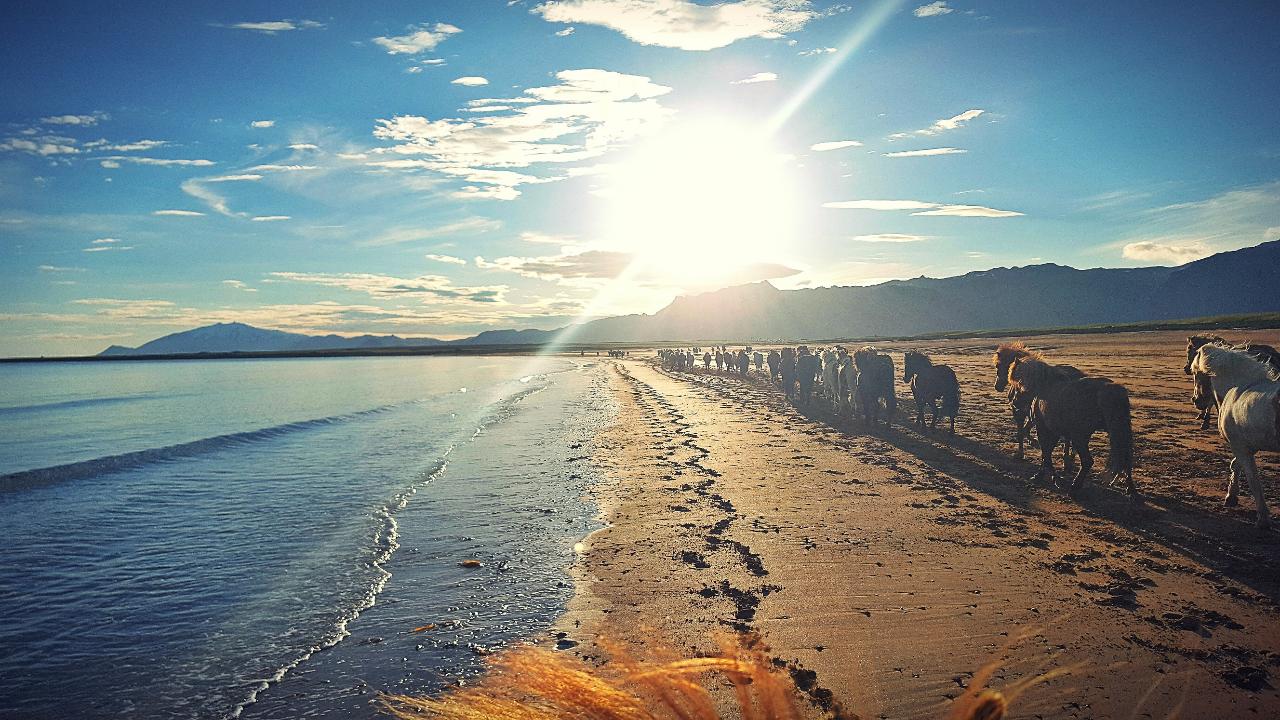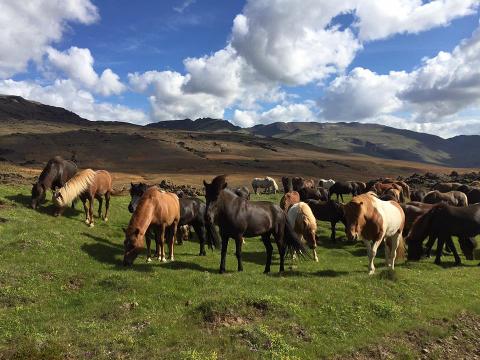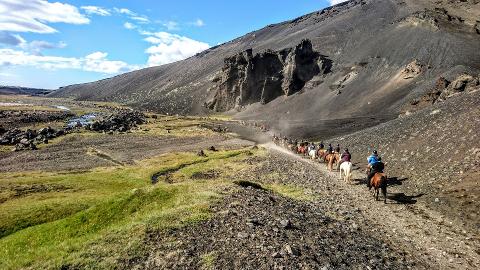 Duration: 4 Days (approx.)
Location: Borgarnes
Product code: IH-16
This is a shorter version of the Snæfellsnes tour. Through lava fields and along hillsides we ride down to the shore and continue our ride on the beach. This traditional trail, only revealed by the tide, offers horses and riders great opportunities to perform the smooth gait "tölt" over long distances.
HORSEBACK RIDING TOUR ON STRETCHY BEACHES AND BEAUTIFUL MOUNTAINS
The
Snæfellsjökull National Park is where you find one of Iceland´s most beautiful
and emblematic sights – the glacier-covered cone volcano Snæfellsjökull. This horseback
riding tour in Snæfellsnes Iceland is definitely the best way to see the
astonishing nature of the peninsula. The mystery and spiritual aura of
this still active volcano were made famous through Jules Verne's novel Journey
to the Centre of the Earth. Many of the great Sagas are located in this very
area. Today the remote beauty and rich bird life draw visitors from all over
the world. The peninsula itself is often called "Iceland in a nutshell" because
of its diversity of landscape.
Experiencing
"tölt", the unique extra gait of the Icelandic Horse is made easy for you on
this tour when we follow good riding tracks. The long stretches of smooth sandy
beaches make this tour a delight for both horses and riders.
This
horseback riding tour takes us through a landscape of extensive lava fields,
craters, and ash from ancient eruptions in Hítardalur valley. We also enjoy
wide-open stretches of light-colored sand at Löngufjörur beach, where only the
tide sets a limit to the freedom of horse and man. The impressive 50-meter deep
crater Eldborg is a distinctive landmark, where the light sand turns black once
you reach its lava field.
Day
1. Reykjavík – Hraunholt

Pick
up at
BSÍ Bus station in Reykjavik at 16:00 where
our Islandshesta bus will transfer you and your fellow riders to Hraunholt
Farm, where horses and the family at Hraunholt are waiting for us. After a lovely introductory meal where we get to know
each other we relax and rest so we are well prepared for the adventure ahead of
us. Over night at Hraunholt.
NB: Next days we ride on Löngufjörur
beach where timings depend on the tide. In some cases, we need to start the
ride very early in the morning or in the afternoon.
Day 2. Traðir - Kolviðarnes
Another days ride on the yellow colored, sandy beach,
the same directions as the day before a unique experience for everyone with
lava-fields and mountains on one side of the trail and the Atlantic Ocean on
the other. We leave the orses at Traðir Farm and we spend the night at
Hraunholt Farm.
Riding distance: approx. 35 km.
Day 3. Kolviðarnes –
Hausthúsahringur - Kolviðarnes
We leave the herd at Kolviðarnes and go out and play,
enjoying another brisk ride on the beach with fantastic views of the ocean, the
mountains and the majestic Snæfellsnes Glacier. The horses stay at Kolviðarnes
and we drive back to Hraunholt.
Riding distance: approx. 18 km.
Day 4.
Kolviðarnes – Hraunholt
We take all the horses with us and ride into the
mountains and lava, on our way back to Hraunholt. We ride through fertile
farmlands and along good riding tracks over the river Haffjarðará and travel
through an area well known as the hideout of Iceland's most famous outlaw,
Grettir. Over night at Hraunholt.
Riding
distance: approx. 25 km.
Day 5.
Hraunholt – Rauðaneslaug - Hraunholt
On the last day we choose our best horses and
continue riding in amazing landscape surounded with lava, mountains,
rivers and lakes. We ride to Rauðaneslaug where we can have a bath in the
Rauðaneslaug swimming pool.
We will then ride our last part of the tour before we
enjoy the farewell dinner at Hraunholt.
Riding distance: approx. 22 km.
Day 6. Hraunholt – Reykjavík

Transfer back to BSÍ bus
station in Reykjavík. Approx. Arrival 11:30
– We reserve the right to alter the itinerary if necessary –
ACCOMMODATION
Accommodation in made up beds in shared rooms. Accommodation after the ride to be arranged individually.
NOTE - Knee-high rubber boots are recommended for this ride.
WHAT IS INCLUDED
Bus transfer from Reykjavík to the farm.
During the ride full board is provided. Our menu consists of a large breakfast and traditional Icelandic meals (fish or lamb). Vegetarian meals are available if requested when booking. All riders make their own packed lunch from the breakfast table.
Alcoholic beverages are not included in the tour price and are hard to get in the highlands. They can be bought at a reasonable price in the Duty Free Store at Keflavik Airport upon arrival.
Rain wear, water bottle, saddle bag, riding helmet.
ATTENTION
Individual travel insurance is not included in the tour price. We encourage clients to obtain relevant travel insurance before visiting Iceland.
Flight to and from Iceland is not included.
- For more information please visit our website www.islandshestar.is -