Trail of hope - North-West explorer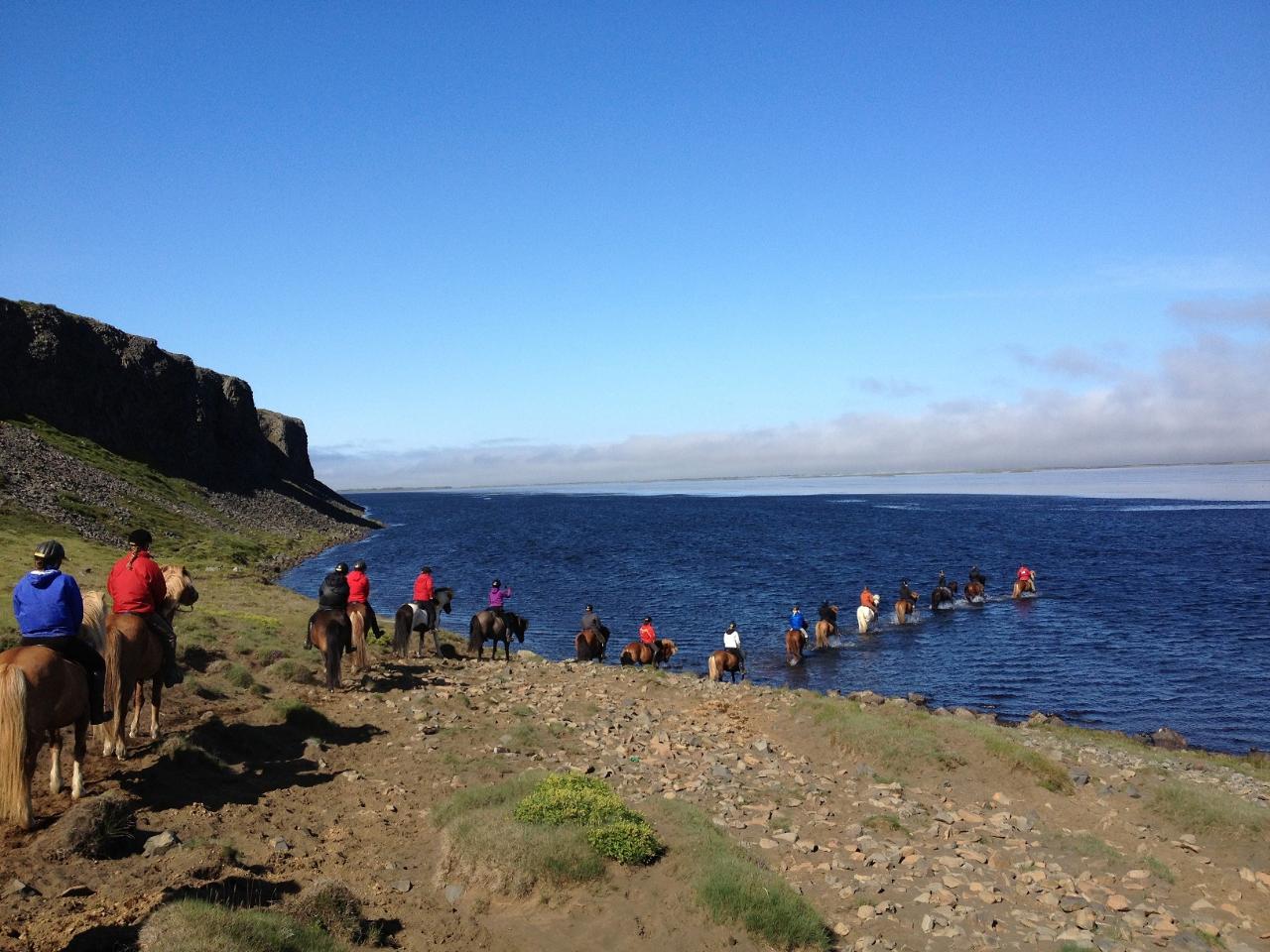 Duration: 4 Days (approx.)
Product code: IH-18
On this tour we ride through unspoiled nature while our guide introduces us to Iceland´s heroic past with tales of bloody conflict, revenge and love from the ancient Sagas.
HORSEBACK RIDING ACROSS THE LAGOON HOPE, WHAT AN EXPERIENCE!
This tour is an ideal opportunity for everyone who wants to enjoy a comfortable ride in different types of landscape. We ride through unspoiled nature and get an excellent insight into Icelandic history when listening to stories from the Saga ages. Riding the horses on smooth sandy grounds is a joy for the rider and his mount. There is plenty of time to enjoy the unique gait "tölt" while exploring nature and the history of this outstanding area.
We start the ride at Hvammur Farm in Vatnsdalur valley. It is a thrilling experience riding in the water on our way across the lagoon called Lake Hóp. A visit to a seal colony on the North-Atlantic coast and the majestic Hvítserkur monolith is wonderful thing to see.
Day 1: Reykjavík – Hvammur – Vatnsdalur – Sveinsstaðir
Pick up between 07:30 and 08:30 in the morning. Please be ready at the earliest pick up time and be ready in your riding clothes. Transfer by bus from Reykjavík to Hvammur Farm, where we meet horses and guides. We start our ride through Vatnsdalur valley. This beautiful valley is the setting of the Vatnsdæla-Saga. We ride along the banks of River Vatnsdalsá before crossing over to the western side of the valley. Our ride ends at Sveinsstaðir Farm and we return to Hvammur Farm for our overnight stay. (Approx. 25 km)
Day 2: Hvammur – Sveinsstaðir – Hóp – Borgarvirki
We leave Sveinsstaðir Farm and ride alongside the lagoon Hóp. The black sand at the beach is ideal for riding tölt, the special gait of the Icelandic horse. This trail along the shore gives us an idea of the beautiful lagoon we are going to cross tomorrow. We ride along the banks of Víðidalsá River and cross over it. We take a break at Stóra-Borg and drive to Borgarvirki, a fascinating fortress from the Viking ages. We spend the night again at Hammur Farm. (Approx. 30 km)
Day 3: Hvammur – Hvítserkur – North Atlantic – Thingeyrar
Today we explore the beauty of the Vatnsnes peninsula and follow black dunes on Sigríðarstaðasandur towards the North-Atlantic. Just off shore we see Hvítserkur, a basalt rock formation, nesting place to many seabirds. This area is home to large numbers of seals and hopefully we see many of them resting and playing on the beach. Today we cross the lagoon Lake Hóp and follow a safe trail through the water on our way to Thingeyrar Farm, once the site of a monastery founded in the 12th century. For sure this day is one of the highlights of this ride. Relax in the outdoor hot tub at Hvammur Farm before a hearty dinner. (Approx. 40 km)
Day 4: Hvammur – Thingeyrar – Húnavatn – Hvammur
We start the day with a visit to historic Thingeyrar Church. This is our last day of riding and we bring the horses back to Hvammur Farm. We cross Lake Húnavatn on a save trail in the water and enjoy the excitement of the horses once they have returned to the black sand on dry land. We ride on the eastern side of Vatnsdalur valley, past Hvammsfoss waterfall, surrounded by impressive basalt columns. Celebrate the successful return in the evening with great farewell dinner. (Approx. 25 km)
Day 5: Hvammur – Reykjavík
It is time to say good bye to our guides and drive back to your accommodation in Reykjavík. Approx. arrival at 12:30 in Reykjavík.
– We reserve the right to alter the itinerary if necessary –
ACCOMMODATION
2 - 4 bed units, beds with bed linen. Accommodation before and after the ride are to be arranged individually.
NOTE - Knee-high rubber boots are recommended for this ride
WHAT IS INCLUDED
Bus transfer from Reykjavík to the farm.
During the ride full board is provided. Our menu consists of a large breakfast and traditional Icelandic meals (fish or lamb). Vegetarian meals are available if requested when booking. All riders make their own packed lunch from the breakfast table.
Alcoholic beverages are not included in the tour price and are hard to get in the highlands. They can be bought at a reasonable price in the Duty Free Store at Keflavik Airport upon arrival.
Rain wear, water bottle, saddle bag, riding helmet.
ATTENTION
• Individual travel insurance is not included in the tour price. We encourage clients to obtain relevant travel insurance before visiting Iceland.
• Flight to and from Iceland is not included
- For more information please visit our website www.islandshestar.is -