Volcano Mt. Hekla Landmannalaugar - Mountain Spirit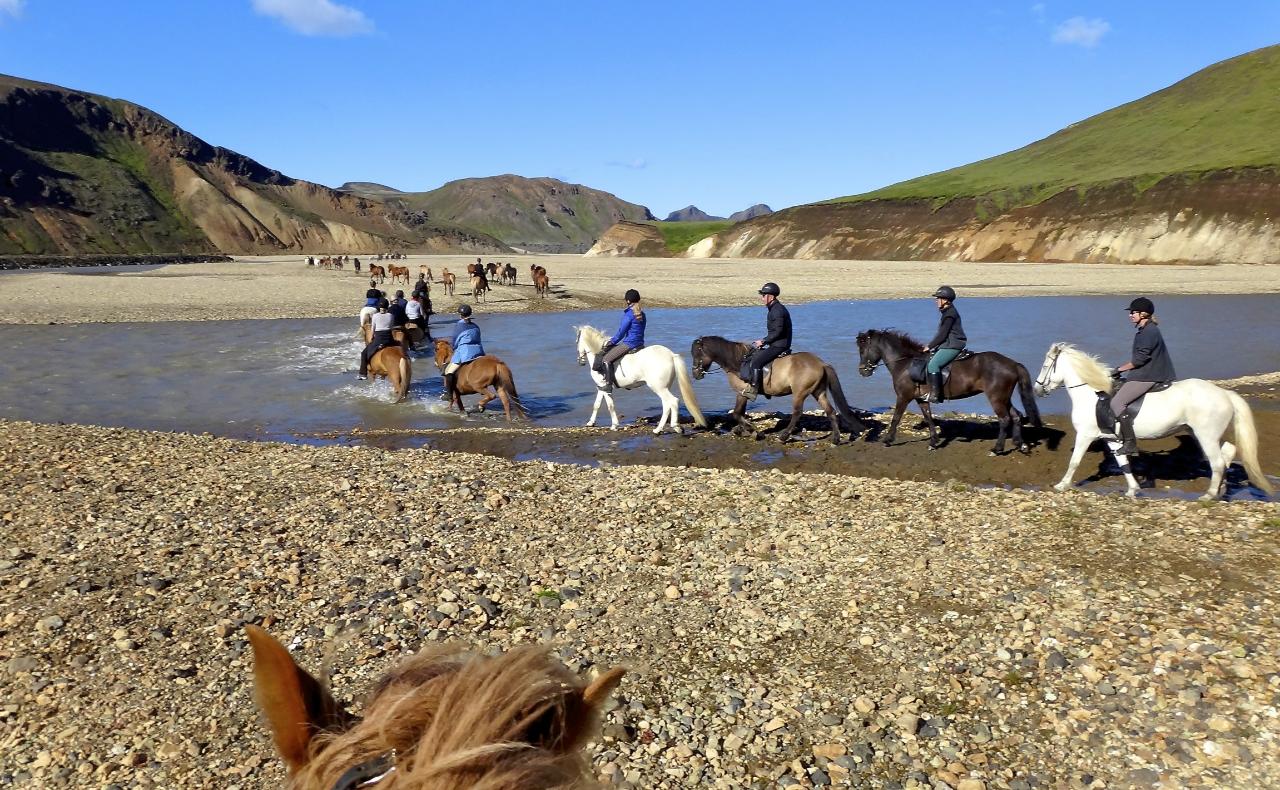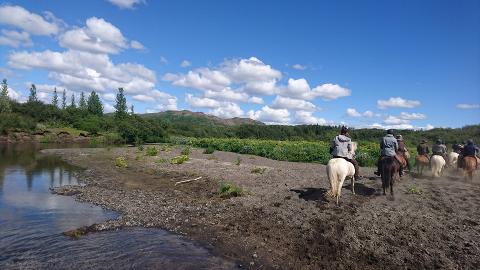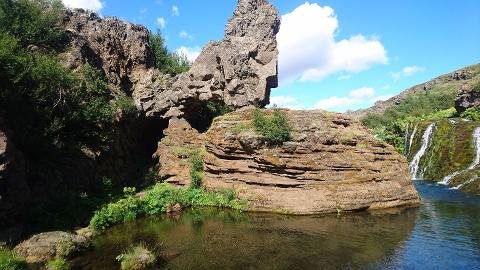 Duration: 6 Days (approx.)
Location: Hafnarfjordur
Product code: IH-19
On this exciting tour we see the mountain Hekla towering over the region and every day we see evidence of its numerous devastating eruptions throughout the ages.
HORSEBACK RIDING IN SPECTACULAR VOLCANIC AREA
Mount Hekla is a highly active volcano often titled the "Queen of Iceland". The mountain towers regally over the region and every day we see evidence of its numerous devastating eruptions throughout the ages. In the old times people actually believed it to be the gateway to hell. Landmannalaugar is a geothermal wonderland in the Southern Highlands. Its natural bathing pools are only one of the highlights which make this area one of Iceland's most popular destinations for nature lovers.
Our ride starts along the river banks of the mighty glacial river Thjórsá, with a magnificient view on glacier Eyjafjallajökull and Volcano Hekla. The beautiful area Landmannahellir is a fitting outpost in the central highlands before going on to enjoy the colourful rhyolite mountains in Landmannalaugar, surrounded by black lava fields.
Our way back to civilisation leads us down from the mountains and into black lava and green valleys. The spirited and sure-footed horses make this tour an experience of a lifetime for anyone seeking a challenging highland adventure.
Day-by-Day Itinerary
Day 1. Reykjavík - Blesastaðir
Pick up at BSÍ Bus station in Reykjavik at 18:00, where our bus will transfer you and your fellow riders to Blesastaðir guesthouse. After a lovely introductory meal where we get to know each other we relax and rest so we are well prepared for the adventure ahead of us.
Day 2. Kálfhóll - Glacier river Thjórsá - Blesastaðir Guesthouse
We ride on fantastic riding paths along the mighty glacial river Þjórsá, with views of the glacier Eyjafjallajökull and the volcano Hekla. We leave the horses at Sandlækjarmýri field and drive to Blesastaðir Guesthouse. This day is the perfect start to get to know your horse and the Icelandic way of trail riding in a relaxed atmosphere. We stay at Blesastaðir Guesthouse and relax in the hot tub outdoors. (approximately 20 km)
Day 3. Blesastaðir Guesthouse – Mountain hut Hólaskógur
Today we ride along the lovely river Sandá through the National Forest Skriðufellskógur into the beautiful and famous valley of Thjórsárdalur. The mountain Dímon towers over the vast lavenderblue lupine fields along the sandy tracks. We stop at Stöng, the ruins of a medieval farmhouse excavated in 1939. In 1104, Mt Hekla erupted for the first time in the recorded history of Iceland. The eruption destroyed at least 20 farms in the valley Thjórsárdalur, among them the farm Stöng. After a short stop at Gjáin, a mystical canyon with lots of small waterfalls and famous setting for Games of Thrones, we head for the cosy mountain hut Hólaskógur with prime view of Volcano Hekla. (approximately 30 km)
Day 4. Mountain hut Hólaskógur – Landmannahellir Mountain hut
We ride over narrow tracks through black lava north of Valafell mountain. Our surefooted horses carry us comfortably through rough terrain through the Lambaskarð mountain passage. We continue on sandy paths close by lake Sauðleysuvatn and through the moonlike desert towards Mountain hut Landmannahellir, where we will spend two nights. (approximately 30 km)
Day 5. Landmannahellir - Landmannalaugar – Landmannahellir Mountain hut
Today we ride to the famous Landmannalaugar, with its natural hot pool, surrounded by colorful mountains and lava from 1480. Our horses rest in a paddock and we have a good part of the day to relax in the hot pools or visit the numerous sights, before returning to Landmannahellir. This day will be without a doubt, one of the highlights of this tour. (approximately 40 km)
Day 6. Landmannahellir – Mountain hut Hólaskógur
We leave the beautiful area of Landmannahellir and ride on towards the Herbjarnfell mountain. Today´s route takes us over varying landscape. We ride across sanders, sharp lava, huge pumice fields in many colors and over green grazing fields where the farmers drive their sheep during summer. We stay overnight in the solitary mountain hut Hólaskógur with perfect view of the Hekla volcano. Here we get the feeling of being "on top of the world". (approximately 40 km)
Day 7. Mountain hut Hólaskógur – Réttarholt Guesthouse – Kálfhóll – Reykjavík
Today we ride over the rich green mountain fields over Seljamýri to Fögruskógar and Þrengslasandur towards Réttarholt Guesthouse. Here we have to say goodbye to horses and staff. The bus will take us back to Kálfhóll farm for coffee & cake. We then drive back to your accommodation in Reykjavík. (approximately 20 km)

– We reserve the right to alter the itinerary if necessary –
ACCOMMODATION
Shared rooms in simple mountain cabins and sleeping bag accommodation during the ride. Accommodation after the ride are to be arranged individually.
NOTE - Please bring your own sleeping bag
WHAT IS INCLUDED
Bus transfer from Reykjavík to the farm.
During the ride full board is provided. Our menu consists of a large breakfast and traditional Icelandic meals (fish or lamb). Vegetarian meals are available if requested when booking. All riders make their own packed lunch from the breakfast table.
Alcoholic beverages are not included in the tour price and are hard to get in the highlands. They can be bought at a reasonable price in the Duty Free Store at Keflavik Airport upon arrival.
Rain wear, water bottle, saddle bag, riding helmet.
ATTENTION
Individual travel insurance is not included in the tour price. We encourage clients to obtain relevant travel insurance before visiting Iceland.
Flight to and from Iceland is not included
Please bring your own sleeping bag with you on the tour
Bring bags rather than hard cover suitcases
Pack light because transport space is limited.
- For more information please visit our website www.islandshestar.is -