Sheep round up - Landmannaafréttur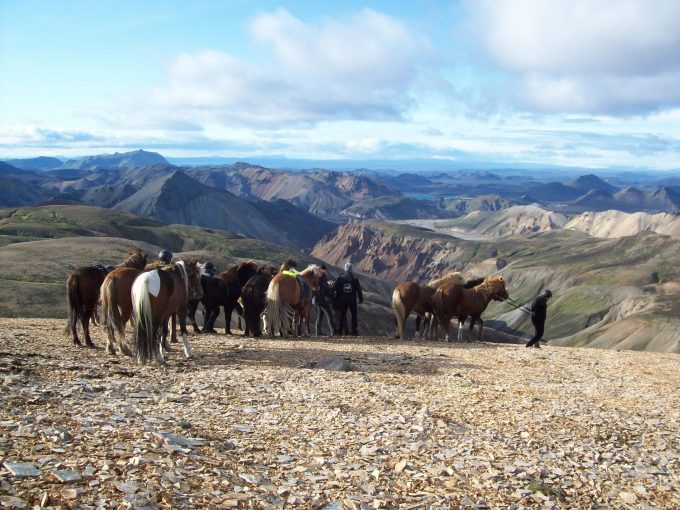 Duration: 6 Days (approx.)
Location: Hafnarfjordur
Product code: IH-24
On this special tour we join the farmers in South Iceland as they round up thousands of sheep from the mountains. We gather the sheep into the Landmannaafréttur communal sheepfold close to the famous Landmannalaugar geothermal area.
ROUNDING UP SHEEP WITH THE FARMERS IN LANDMANNALAUGAR AND JÖKULGIL
On this special tour we join the farmers in South Iceland as they round up thousands of sheep from the mountains. We gather the sheep into the Landmannaafréttur communal sheepfold close to the famous Landmannalaugar geothermal area. The yellow, reddish and greenish hue of the rhyolite mountains give this area a magical touch.
Here, under the stately gaze of Mt. Hekla, we drive the sheep across the black sands, which is the ash spewed by this volcano over centuries. Local farmers have been herding sheep in this area for centuries. Learn from them how to manage the flock, drive sheep down hillsides, across rivers and out of sheltered valleys to their resting place for the night, only to head off again the next day to round up more.
Being amongst the farming community and lending a helping hand in this age-old tradition of the autumn round-up is as close as you can get to the heart and soul of this nation.
As participants, you are joining an annual tradition and not a customized riding tour. Therefore an open mind, good physical health and the ability to work as a team are essential. Expect to be treated as one of the crowd, be prepared to pull your weight each day and enjoy the camaraderie of all those participating.
When you participate in the Round Ups you are experiencing the Real Thing! You will be one of the group to herd and sort the animals. Of course, that means long hours outside in the sometimes cold weather. Iceland in autumn has many colors and types of weather. Anticipate to be in golden sunshine one moment and to ride in the rain and even sleet during the next.
We, therefore, recommend to dress well during these tours, to bring long woolen underwear and lots of woolen socks and gloves. It is also good to bring some "quick energy supplier" like chocolate. A warm rider is a happy rider!
Friday: Transfer to Landmannahellir – Landmannalaugar
Pick up between 09:00 – 10:00 from your hotel in the morning. Please be ready at the earliest pick up time. Your accommodation might be the first one for pick up and dress already in riding clothes. Transfer from Reykjavík in the morning to the Íshestar Riding Centre. Receive details about the adventure ahead of you. On to Landmannahellir where we meet the horses and fellow riders. We ride into the famous Landmannalaugar area with its natural hot pool, surrounded by colourful mountains and black lava fields. This is a short riding day which gives us time to get acquainted with the terrain and to learn about the task which lies ahead. Overnight stay in Landmannalaugar. (3 – 4 hrs.)
Saturday: Jökulgilið – Landmannalaugar
Jökulgilið, a long and shallow valley with multiple colours and rock formations, is our destination for today. The valley is surrounded by mountains and glaciers, mostly barren yet covered with grass here and there. This is what attracts the sheep who seek into this remote area far away from any human contact. A glacier fed river makes it hard to access the valley during the summer time and it is only now that we can ride in and look for the sheep that have been grazing there all summer. (8 – 9 hrs.)
Sunday: Landmannalaugar – Landmannahellir
Today we cover the area between Landmannalaugar and Landmannahellir. Even though not too far apart the area is covered with lava fields, craters and lakes and sheep can be found widely. Therefore it is important to keep your place in the human chain to make sure that no sheep stays behind. Another and final night in Landmannalaugar. (8 hrs.)
Monday: Landmannahellir and surroundings
We leave Landmannalaugar in the morning, pack our belongings into a transport vehicle and ride back to Landmannahellir, driving our spare horses along in a free running herd. Today we explore the surroundings of Landmannahellir, which has a long tradition as a night rest for those gathering sheep. Originally two caves there were used as a shelter for horses and men. (8 hrs.)
Tuesday: Mt. Hekla volcano
Green grass turns into black ashes as we approach Mt. Hekla volcano. Mt. Hekla is an active volcano and has erupted regularly, spewing lava, pumice and ash into the sky. Sheep can be found in sheltered valleys and we make sure that they all return home. While some of us are out in this wilderness looking for sheep others drive the flock to Mt.Valahnjúkar. Overnight in Landmannahellir. (10 hrs.)
Wednesday: Áfangagil – Galtalækur Farm
Áfangagil is the final destination for our flock today. Here is the round pen where the sheep will be sorted tomorrow. On our way we search the area to make sure that no sheep stays behind. We spend our last night at Galtalækur Farm, underneath towering Mt. Hekla volcano. (8 hrs.)
Thursday: Day of the round-up
This is the final and well celebrated day of the round-up. At noon the sorting of the sheep starts and lasts until each sheep has been returned to its owners. Participate in sorting the sheep, pass the flask around and join in the singing and celebrating after a successful ride into the mountains. Once the sorting is finished we drive back to Reykjavík where this great tour ends at approx. 18:00.
– We reserve the right to alter the itinerary if necessary –
ACCOMMODATION
Sleeping bag accommodation in simple mountain cabins, shared by the local farmers participating with you in rounding up the sheep.
NOTE - Some walking will be involved. Please bring your own sleeping bag.
WHAT IS INCLUDED
Bus transfer from Reykjavík to the farm.
During the ride full board is provided. Our menu consists of a large breakfast and traditional Icelandic meals (fish or lamb). Vegetarian meals are available if requested when booking. All riders make their own packed lunch from the breakfast table.
Alcoholic beverages are not included in the tour price and are hard to get in the highlands. They can be bought at a reasonable price in the Duty Free Store at Keflavik Airport upon arrival.
Rain wear, water bottle, saddle bag, riding helmet.
ATTENTION
Individual travel insurance is not included in the tour price. We encourage clients to obtain relevant travel insurance before visiting Iceland.
Flight to and from Iceland is not included
Please bring your own sleeping bag with you on the tour
- For more information please visit our website www.islandshestar.is -